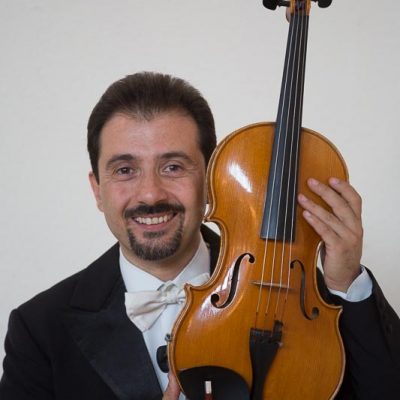 He graduated under the guidance of M° Piero Farulli ( violist of the legendary Quartetto Italiano) and was subsequently admitted to the three-year course of advanced viola by M', Hatto Beyerle at the School of Music in Fiesole.
Within the course of string quartet held by M° Piero Farulli at " L' Accademia Chigiana " ( Si ) he is awarded the prestigious " Honorary Diploma ". His musical path leads him to follow also the masters: Bruno Giuranna, Vladimir Mendelssohn and Wolfram Christ.
His interest in contemporary music led him to perform in Luxembourg (music by F. Donatoni), Berlin (Die Lange Nacht der Elektronischen Klange 2000 music by A.Brizzi), Munich ( Schloss Elmau music by G. Scelsi ), Accademia Musicale Chigiana ( Sequence VI by L.Berio ), GOG of Genoa ( " Del suono che non fa rumore " by Fanticini ), and to collaborate with internationally renowned composers including Salvatore Sciarrino, Stefano Scodanibbio, Fabrizio Fanticini, Helmut Lachenmann, Simone Fontanelli , Gyorgy Kurtag, Marco Uvietta , Terry Riley, Gianluca Ulivelli, Steve Reich, Xuyi, Giya Kancheli, Luis De Pablo, Antonio Anichini.
With the Quartetto Prometeo, of which he was the violist from the foundation ( 1993 ) until 2010, he won prizes in national and international competitions ( " Prague Spring International Competition " "Concours International de Quatuor di Bordeaux" International Quartet Competition "ARD" of Munich). He has performed concerts and tours in Europe, Japan, the United States, South America and collaborated with internationally renowned soloists and chamber musicians : Massimo Quarta, Marianna Sirbu, Pavel Vernikov, Andrea Lucchesini, Ludmila Berlinskaia, Enrico Pace, Claudia Antonelli, Michele Campanella, Raphael Drouin, Paolo Beltramini, Marc Desmons, Vladimir Mendelsshon, Mario Brunello, David Geringas, Pier Narciso Masi, Veronica Hagen, Quartetto Adorno, Matteo Fossi, Laura Polverelli.
He made radio recordings for BBC Radio 3 , RAI Radio 3, for ORF Austrian National Radio ,ARD Munich. Recorded for BMG Ricordi s.p.a. , Real Sound, Zig Zag, Limen music, Kairos, Bottega Discantica, Naxos. He also collaborated with the Quartetto di Roma from 2013 to 2017.
In January 2017 he published, for the publishing house " Edizioni Momenti "the transcription for four violas of the sonata BWV 1001 for solo violin by J.S.Bach.
He has masterclasses at La Washington University ( Seattle ), Pacific University ( Forest Grove – Oregon ) and the Real Conservatorio di musica " V. Eugenia" in Granada. He taught string quartet at the Istituto Pareggiato " O. Vecchi " ( Mo) and viola at the Scuola di Musica di Fiesole (FI ) and holds the chair of viola at the Conservatorio " Rinaldo Franci" (SI)
Since 2015 he is the violist of the "Trio Reinecke " through which he researches and develops the repertoire for clarinet, viola and piano performing in festivals and companies in Italy and abroad. Since 2020 he is also the violist of the "Trio di Firenze " with whom he researches and develops the repertoire, both classical and contemporary, for string trio performing in festivals and companies in Italy and abroad.
He plays a viola " Rodolfo Fredi " ( 1940 ).