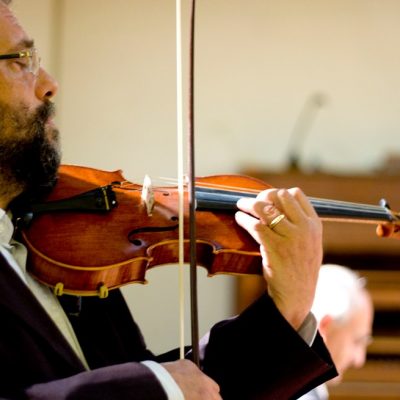 Born into a family of musicians, Giacomo Agazzini, studied at the Turin Conservatoire , graduating in 1982  from the class of Massimo Marin. He furthered his studies  with Corrado Romano,Salvatore Accardo Peiro Farulli, Milan Skampa and Gyorgy Kurtag.
In 1988 he founded the "Quartetto d'archi di Torino" and  for some 20 years, as the quartet's leader, he  performed  in the most prestigious concert halls and seasons  in Italy  and throughout the world, making many recordings and radio broadcasts. With the Quartet he collaborated with such important figures as Aldo Ciccolini, Valentin Berlinsky, Enrico Dindo and Ezio Bosso.
Agazzini has been much involved in contemporary music, and  has given many first performances, including Sylvano Bussoti's violin concerto for Radio France, the first string quartet  by Fabio Vacchi and all of Ezio Bosso's violin works,  which he has recorded in a set of 6 CDs for iTunes.
In his explorations of electronic music, Agazzini collaborate with Andrea Chenna, and with Claudio Lugo and Andrea Lanza has created the "Agalula" project of improvisations in trio, where he plays electric violin.
Agazzini is  currently Professor  of violin at the Verdi Conservatoire in Turin.