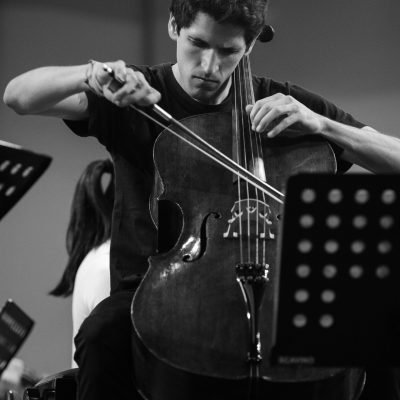 Martino Maina, born in 1995, obtained his diploma at the Turin Conservatory with Massimo Macrì and the master at the Conservatory of Lugano, with Enrico Dindo, both with honours. He studied at the Scuola di Fiesole with Bruno Delepelaire, the first cello of the Berliner Philharmoniker.
From a very young age, he won prizes in various competitions. He was part of the Orchestra Giovanile Italiana and the Orchestra Cherubini, working with great conductors, including Riccardo Muti, with whom he took part in international tours.
He has collaborated with soloists such as Natalia Gutman, Shlomo Mintz, Anne-Sophie Mutter, David Fray and he attended courses by Antonio Meneses, Natalia Gutman, Thomas Demenga, Alexander Baillie.
He formed the Trio Juvarra and theQuartetto Echos during his studies at the Turin Conservatory, in the classes of A. Valentino and C. Ravetto. With these formations, he perfected at the Academy of Pinerolo, Scuola di Fiesole and the Stauffer Academy and through numerous courses with the Trio Debussy, Trio di Parma, Quartetto di Cremona and with members of the Belcea Quartets, Ysaye, Hagen, Artemis, Jerusalem, Alban Berg and others.
Among other awards, the Trio won the international competition "Marco Fiorindo" and the CRT scholarship, followed masterclasses with A. Ganz, C. Butzberger, B. Giuranna, and performed Beethoven's Triple Concerto with the Conservatory Orchestra of Turin.
The Quartet has established itself by holding concerts for major Italian concert companies and foreign festivals, won the Abbiati Award "Piero Farulli" of the critics, the first prize at competition "Gasparo da Salò" and the second in the competition "Dragoni".
Currently, Martino plays in a duo with the pianist Lorenzo Morra, with whom he won the first overall prize at the Competition Clara Wieck Schumann from Massa and one of the award concerts put up for grabs by the competition Ducale Lab 2020 of Vercelli, also winning the audience award.