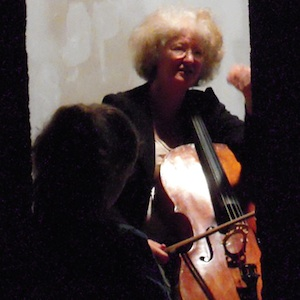 Elizabeth Wilson was born in London. At the age of seventeen she went to Moscow to study cello in Mstislav Rostropovich's class at the Moscow Conservatoire, remaining there for 7 years. On returning to London she pursued a career as soloist, chamber musician   and   teacher, travelling all over Europe.  She has    been particularly active in contemporary music, and has worked with such composers as Arvo Part, Alfred Schnittke, James Macmillan, Giya Kancheli, Gavin Bryars, David Matthews and Giulio Castagnoli. Recordings include Passio by Arvo Part (with Hilliard Ensemble)  for ECM, as well as Gerald Barry's chamber music (with Xenia Ensemble) and numerous radio recordings.  Amongst others, Edison Denisov, Alexander Raskatov, Vladimir Tarnopolsky, Gerard McBurney, Simon Rowland-Jones  and Alexander Knaifel have dedicated their works to her.
Wilson is also active as a musicologist, having written   books on Shostakovich, Rostropovich and Jacqueline du Pré amongst others.  She has given talks, master classes and seminars throughout Europe, the USA and Japan on various aspects of Shostakovich's music, as well as on contemporary Russian composers, Alfred Schnittke, and Benjamin Britten amongst others.
She has worked many years as a teacher of cello and chamber music, for instance  at Chethams School and the RNCM  in Manchester, the Guildhall in London as well as organising courses in Italy(in Saluzzo and Lucca)  and  giving master classes in Portugal,  France, Italy, the UK and the USA Currently Wilson acts as assistant to Natalia Gutman at the Scuola di Musica di Fiesole for specialist master courses.
For  well over 20 years,  she has lived in Italy, near Torino where she was a founder member of Xenia Ensemble, while continuing her work as consultant for festivals in the UK, Holland and Italy.