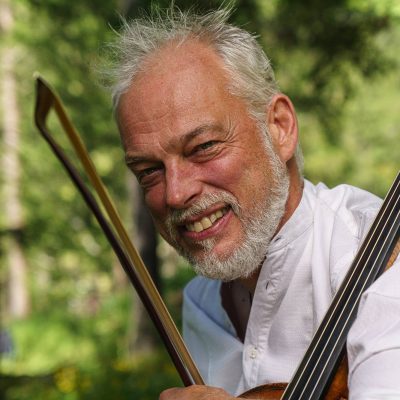 Manuel Zigante, born in Roubaix in 1963, graduated with honours from the Conservatory of Santa Cecilia in Rome studying cello with Renzo Brancaleon and Amedeo Baldovino.
Since 1988 he is a founding member of the Quartetto di Torino under the guidance of Piero Farulli -Quartetto Italiano- and the composer Gyorgy Kurtág, with whom he played an intense concert activity presenting all the cornerstones of the repertoire from baroque to contemporary.
Mountain lover, with his friend Giuseppe Gavazza and nature guide Marco Pozzi, has created a series of musical walks with cello and electronics in the Piedmont Alps. He is also a founding member of the " gruppo 8 violoncelli di Torino".
Parallel to the quartet activity, as well as continuing to deepen the solo repertoire for cello, in duo with piano with Giacomo Fuga and chamber music, is called to support the role of the first cello at various orchestras, He collaborates in jazz line-up with saxophonist Claudio Chiara in duo with accordionist Massimo Pitzianti and with trumpet player Giorgio Licalzi, a long-time friend, he has been searching for new sounds for years combining his cello with electronics and trumpet.
Professor of Quartet at the G.Verdi Conservatory in Turin, he was for ten years assistant to Piero Farulli at the School of Music in Fiesole.
He plays a Joseph Dall'Aglio cello from 1831.