PATRONS AND THEIR HEIRS 
In our first Blog we talked about Prince Joseph Frantz Lobkowitz, who commissioned the Op 18 Quartets of Beethoven.  The heirs of the Lobkowitz family kept many musical treasures, not least the original parts of Beethoven's Eroica Symphony, still in the family's possession. For most of the 20th century the descendants of Prince Lobkowitz were dispossessed of their properties in Bohemia , as first Prague was occupied by the Germans and then after WWII became the capital of the Communist state of Czechoslovakia. And in 1968 another invasion of Czechoslovakia took place, when the local communist regime, under Dubcek iniatiated The Prague Spring" a less oppressive, softer form of Communism. Such political relaxation was intolerable to the Soviet Union, which sent tanks and troops to crush the country's hopes.  During these decades, the Lobkowitz family were in exile in the USA.
After the Velvet Revolution in 1989, the new Czech President Vaclav Havel offered the Lobkowitzes their properties back, on condition they paid for upkeep and maintenance and made them open to the public.    The family accepted with alacrity, and today the Lobkowicz Palace is one of Prague's most visited museums. Just now they are celebrating the 250th anniversary of Beethoven's birth with a special exhibition.
Let's hope we too can visit the Lobkowitz Museum in Prague in the foreseeable future, once it is safe to do so, when Corona Virus travel restrictions have been lifted!
 THE FIRST PROFESSIONAL STRING QUARTET 
As we told you in our first Blog, the teenager violinist Ignaz Schuppanzigh became the leader of the Prince Lichnowksy resident quartet in 1795. Under varying names and a few changes of members Schupannzigh's quartet survived until his death in 1830 
When his teacher, Haydn left Vienna for London in 1794, Beethoven decided to take violin lessons with Schuppanzigh, He loved to tease the short, fat and pleasure-loving Schuppanzigh mercilessly, calling him My Lord Falstaff and even writing a cantata for him "Lob Auf den Dicken"(In praise of fat men)!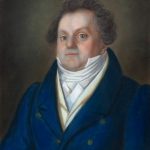 Schuppanzigh was never the intellectual equal of Beethoven, yet it suited them both that he was willing to serve the composer loyally as a dedicated interpreter not only of his innovative string quartets but as partner in his Trios, and leader of orchestras which first performed his Symphonies.  Johann Friederich Reichard praised "the truly singing and touching cantabile of his playing" but criticised "his damnable habit of beating time with his foot."                      
Schuppanzigh created his own quartet in 1805 with Joseph Mayseder, Anton Schreiber and Antonin Kraf.  It was re-formed three years later under the patronage of Count Razumovsky the Russian Amassador to Vienna. (Its other members were Louis Sina, Franz Weiss and Josef Linke). Razumovsky every now and then liked to play with them, as second violin. He paid the quartet members a generous salary and they performed frequently in his luxurious Palace, until it burnt down on New Year's Day 1815. It was then Schuppanzig followed Count Razumovsky to St Petersburg.  And it so happened that in his absence Beethoven wrote no string quartets- the Op 95 was composed in 1810, and his next work for the medium Op 127 was written in 1824, by which time Schuppanzigh was back in Vienna.
Perhaps the most important thing Schuppanzigh did was to take the string quartet out of the realm of amateur home performances for an aristocratic elite to a broader more democratic public with performances on a new professional level. He founded the first independent series of Chamber Music Concerts in Vienna, where his quartet performed the Op 18 and the Razumovsky quartets amongst others. To his credit, Schuppanzigh understood that a string quartet could fill a public hall of up to 500 people, and indeed his quartet was said to sound as loud as an orchestra!
With Beethoven's Op.59, composed in 1806- in other words, the complex and longer Razumovsky quartets, works that were barely comprehensible at the time- the string quartet moved into a new era.
E. W.
HAYDN QUARTETS
We continue with our theme of "favourite Haydn Quartets!" with two contributions from our friends and one time staff-members, Giacomo Agazzini and Manuel Zigante, both of whom are Professors at the Turin Conservatoire and who founded together the Quartetto d'Archi di Torino.
F. J. Haydn, String Quartet op. 76 n. 2
Giacomo Agazzini
'Alas, the Haydn Quartets we played over the course of twenty years can be counted on the fingers of one's hands. So, using the pretext of Haydn's Op. 76 n. 2 in D minor, let me tell you an anecdote about the Quartetto d'Archi di Torino.
It must have been in the late '90s, we were  to play a Haydn-Kurtág-Brahms programme at the Teatro della Pergola concert series in Florence; most importantly, we were going to be reviewed by a critic noted for his authority and for being terrifyingly formidable.
After a decade of quartet playing, we had arrived at this point. We'd spent the last few years working to develop and lighten our decidedly intense and romanticized approach to the classics. To the point that we'd even bought a set of pre-Classical bows and were no longer "'Boys of the 80s ".
An important part of our musical identity as a quartet was derived from Piero Farulli, violist of the legendary Quartetto Italiano!  The Great Piero was also our first teacher. Until just a few years before that Florence concert, we had been his students in Florence and at the Scuola di Musica di Fiesole. Farulli's paternal and authoritative manner always served to intensify the quartet's musical energy during lessons-this was a great pedagogical plus. However, in order to avoid the Maestro's threatening, deafening shouts, it was a good idea to play with active involvement and to ensure an energetic and convincing presence.
Here are some of the more quotable of his classic interjections:
'Playyyyyyy and Vibrrrrrrrate, OSTIA (Holy s***)!, These words, practical and extremely effective, could explode at any moment, even at a pause played without sufficient tension
Or the simpler:
'What the f**** are you doing?'
followed by a more precise explanation 'This isn't your first holy communion! This to criticise the lack of energy in a cellist's rendition of the B section in the Scherzo of Beethoven's Harp Quartet.  
Or 'Cotton wool head!', epithet for a blurred passage played by a curly haired violinist
'It's not Debussy!', directed   at me many a time- especially in Ravel!- for my superficial bow-to-string contact
These wonderful memories have kept us company over the years: Farulli's shouts where signs of his deep affection for us, a form of paternal love.
I know I am not the first to say this, but Piero Farulli was an extraordinary human being, one of those Great Old Legends we had the privilege to meet and work with.
The day before our Florence concert we played through the programme for Farulli. Well knowing that our interpretation of Haydn's 'Fifths', after a gap in academic instruction of a few years, would diverge stylistically from his, and doubtful, in any case, whether the whole process of 'lightening' our playing would meet with his approval, we left the pre-classical bows in our instrument cases.  As we had imagined, the Maestro asked us if we were out of our minds playing Haydn like this, all the more so, as he reminded us, because La Pergola theatre was renowned for its unfortunate acoustics.
So:
PLAY, OSTIA! Brahms and Kurtág ok.
What were we to do the next day?
HE would be at the concert. We had to make a choice …
… We got a very good review, our Haydn was described as much applauded and 'tackled with the proud ferocity of a company of dragoons'.
And so it was that, out of our devotion for the Maestro, we learned that dragoons are soldiers who charge at the enemy on horseback, blasting fire and flames from their blunderbusses.
To use the words of my friend, Daniel Roberts, which I replicate: CHAAAAARGE!
F. J. Haydn, Quartet Op. 76 n. 2 in D minor, Finale. Vivace – Quartetto Italiano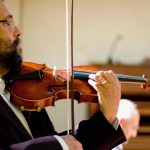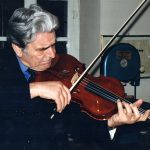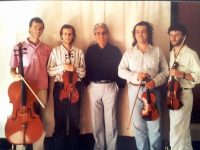 F.J. Haydn
Quartet op. 20 n. 2 in c major – 1772
Manuel Zigante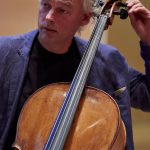 When my friend Elisabeth (Liza) Wilson asked me to write my own account of a string quartet I felt  a little intimidated as Liza is not just a cellist, but also a well-regarded writer and extraordinary biographer and scholar of Russian music and musicians. She has incredible knowledge of classical to contemporary music and is passionate about string quartet and cello repertoire. I am extremely grateful to her for the many gifts she has given me over course of my musical journey: acquaintance and friendship with the great Rostropovitch, whose humble driver I had the honour to be through the streets of Turin; the Borodin Quartet and Valentin Berlinsky- Maestro of Maestros- with whom I played the Schubert Cello Quintet; Rohan de Saram; Liza's magnificent Andrea Guarneri 1691 cello, a true gem of an instrument which I had the privilege of playing for a few months.
These were all important gifts that stimulated me to further cultivate my passion for quartet and music in general.
What is your favourite quartet, the one you would most like to talk about?
This is, to a quartet player, a question with no answer because our repertoire is a galaxy of wondrous masterpieces. I love all repertoire for string quartet, how can I choose between a Beethoven quartet and a Bartok quartet? How to do it? As I think back to the music I first fell in love with, just after Debussy's G minor Quartet, one Haydn quartet in particular springs to mind: Op. 20 n. 2 in C major. It is the second in a collection of six highly innovative and experimental quartets for the time, where Haydn seems to be greeting the beginning of a new musical age and setting the path for a more classical style. Opus 20 is full of experiments: the four instruments are equal, each having the chance to speak with its full voice, Haydn tests the boundaries of the divertimento and sonata form (as we intend it today) to their limit and beyond, paying homage and simultaneously bidding farewell to Baroque style and mannerisms with his explorations.  The Op. 20 quartets are also known as Sonnen Quartette: the frontispiece of the first edition (Hummel) portrayed the image of a rising sun and C major in the olden days was the key that signified light. In many Oriental religions enlightenment is achieved by progressing along a path. The Op. 20 quartets are the beginning of this journey for Haydn: avant-garde composer, brave innovator, guided by light, free from all constrictions, he explores and experiments his way through the quartet from the beginning to the end.
The first movement of the C major quartet- Moderato– opens with a regal theme presented by the cello. The style is more Baroque than classical, with only three voices sounding, as in a trio sonata: the cello plays in the high register, interacting with the second violin's counter melody while the viola plays continuo. The exposition continues in full sonata form with the sweeter, more nostalgic second theme in G major creating a calm and elegant atmosphere. In contrast to this serene situation the development opens with a dramatic 'thunderstorm' section in G minor where the cello and first violin duel amidst a shower of semiquaver arpeggios from the second violin, driven on by the viola's relentless ostinato quavers. The storm is interrupted by an A major arpeggio with the first violin and cello in unison followed by the viola playing the first theme in D minor, progressively leading to the recapitulation where we find the same structure, themes and melodic elements presented in the exposition. The movement ends in gradual diminuendo, the two violins' delicate commentary bringing it to a pianissimo conclusion.
The second Movement, Capriccio. Adagio cantabile, is a masterpiece: in the beginning the four instruments play in unison, a severe and declamatory opening with short rests, also in unison, creating incredible tension. The dotted rhythm gives the movement an austere character. In fact we are immediately transported to another style and could well be seated in a theater, about to witness the beginning of a Baroque opera. All the characters of opera show up in this movement, among them the nostalgic cry of the cello's C minor phrase, its pleading progression abruptly interrupted by the admonishment of the severe dotted figure from all four instruments. It is fascinating to note how the cello's nostalgic phrase is made of the same notes as the ones played at the beginning by the quartet in unison but that it has a completely different character due to a harmonic accompaniment figure of dotted, slurred semiquavers in groups of four which Leopold Mozart called 'bow vibrato' in his Treatise on the fundamental principles of violin playing. After the cello's C minor phrase comes a recitativo section: the first violin speaks and the other instruments comment, endorse or oppose. Then another pleading gesture from the cello, in G minor, followed by more recitativo, this time with shorter phrases and a more succint dialogue between first violin and the 'dotted figure chorus'. A collective, homorhythmyc pianissimo brings the first half of the Adagio to an end, preparing the scene for a genuine opera aria. The first violin is soloist and viola accompanies with an Alberti bass arpeggio figure while cello and second violin bring everything together weaving a harmonic structure of base line and arpeggios. The aria is followed by a cadenza from the first violin, interrupted, once more, by the severe admonishment of the unison dotted figure which brings about an inversion of roles: the first violin now plays the Alberti bass accompaniment while the second violin becomes soloist, leading to the movement's suspended G major conclusion. 
The third movement, Menuetto. Allegretto in C major, is a folk-like, dreamy musette. Its short central Trio section is a reminiscence of the previous movement and brings back the interaction of nostalgic cello phrase and stern, unison quartet admonishment. The return to the musette is a brief hiatus before the Fuga a 4 soggetti. Allegro, a four part Fugue. Although working with this extremely structured compositional technique with strict rules about imitation between the voices, Haydn's mastery of counterpoint gives him freedom to continue experimenting, especially with dynamics, as he keeps the quartet playing sempre sotto voce until the sudden forte at the very end of the movement, the release of all tension in an explosion of joy!
F. J. Haydn, Quartet in C major op. 20 n. 2 – Quatuor Mosaïques
GUEST OF HONOUR
Over the years the Xenia Chamber Music course has hosted some remarkable Guests of Honour. The wonderful violinist DORA SCHWARZBERG came to our course three times and contributed so much -not just in deep musical insights and instrumental skills, but through her understanding of what togetherness means, both in ensemble playing and in her committed involvement with youth. Hugh Maguire likened her playing to some of the best "old-fashioned" players, like Georges Enescu and Yehudi Menuhin- this of course was intended as a complement to her uniquely expressive and natural violin playing. 
Dora taught at the Pinerolo Music Academy for about 10 years; to start with her friend and ex –student Adrian Pinzaru acted as her assistant.  It is amazing that in this NW corner of Italy she had such an influence on string playing pointing her students in the direction of instrumental perfection and stimulating them through the freedom of her music making. This unique pedagogical tradition is now continued by Adrian, who applies the same criteria while developing further his own vision of violin playing. 
I have known Dora for some 50 years- since we were both students at the Moscow Conservatoire. She taught me then how to practice, so technique and music were always fused- and she read to me the Odessa Stories of Isaac Babel so expressively and wittily that the tears ran down my cheeks. Over the years there are things that never changed: her generous character, her sense of fun and her basic wisdom! 
Recently Dora had a nasty breakage of her shoulder and had to have it operated on twice. While waiting to be able to play the violin again, she had fun trying out the melodica.
Dora also has a mystical predilection for The Tango!!! Here she is playing Astor Piazzolla's Ave Maria
'Dear Dora! Our best wishes for your  recovery and getting  back as  soon as possible to violin playing!'
E. W.
Have you ever heard of a family of composers writing a quartet as a joint effort?
This is what happened in 2008 when three Russian composers living in the UK, Dmitri Smirnov, his wife, Elena Firsova and their daughter, Alissa Firsova  accepted a commission from the University of Liverpool for the Dante Quartet to celebrate the Divine Comedy, the greatest masterpiece of  Italian literature. Its division in three parts worked out conveniently for their enterprise- Smirnov wrote the first part Inferno, his wife, Firsova the second, Purgatorio, and Alissa the final Paradiso. Their son the artist Philip Firsov made drawings based on William Blake's visions of Heaven and Hell. The Trilogy of Divine Comedy quartets was also performed at the EstOvest Festival in 2015, when the whole family came to Italy
Some years before, the "Smirsovas" as we called them, all came to stay with me in Cumiana. We had memorable times together: picnicking in the woods overlooking La Sacra di San Michele, Piemonte's most famous historical monument, playing Rachmaninov cello sonata with Alissa at home, taking Philip to the Brera Academy in Milan, performing a concert that included works by Elena and Alissa in Turin. My husband and I treasure the memory of the whole family taking over our kitchen to make pelmeniye the Siberian equivalent of ravioli, made with 3 different types of meat, and never in numbers less than 120!  Actually, yes, we consumed all 120 in one meal!
It is with the greatest sadness that we report the death on 9 April 2020 of that wonderful, generous, multi-talented man, Dmitri Smirnov, a victim of Covid 19. He will be sorely missed!
Here are two links:
E. W.
RECOMMENDED READING:
Jan Swafford, Beethoven. Anguish and Triumph, HMH Publishing company, New York 2014
Isaac Babel, Odessa Stories, Pushkin Collection, Penguin